San Diego's Best Clogged Drain Services Call Today! (858) 346-5223
Drain Clogs and Stoppages
Are you wondering what to do about a clogged drain line or a sewer drain clog?  If you're anywhere in San Diego County, just give us a call anytime, 24  hours a day 7 days a week.  Drain cleaning liquids based on bleach ( sodium hypochlorite and sodium hydroxide, https://en.wikipedia.org/wiki/Sodium_hypochlorite) are relatively safe, but often aren't enough for a kitchen drain clog and rarely make it all the way to the sewer drain.  Never escalate to acid or lye (potassium or sodium hydroxide) based products as they do indeed damage pipes.  Instead call on us, the experts, to repair a clogged drain.  We'll assess the situation and deploy the most cost-effective drain cleaning remedy, whatever the problem might be.
We're Your Drain Cleaning Experts
Serving all of San Diego County with 24/7 availability, we're fully licensed and insured.  Our in-house drain cleaning experts quickly determine the best method for each and every situation.  With our commercial plumbing as well as residential plumbing services we can take care of everything from the sink, tub, or shower drain cover or a backed up toilet on out through the main line all the way to the street.  And our technicians are true professionals, experienced and full trained.  They'll arrive in a well-maintained truck wearing a clean uniform.  Before starting work they'll fully discuss all your options and lay out floor protection.  Once done they will actually clean up after themselves.  We're after your 100% satisfaction with a follow-up phone call.
We Offer A Full Range Of Drain Cleaning Services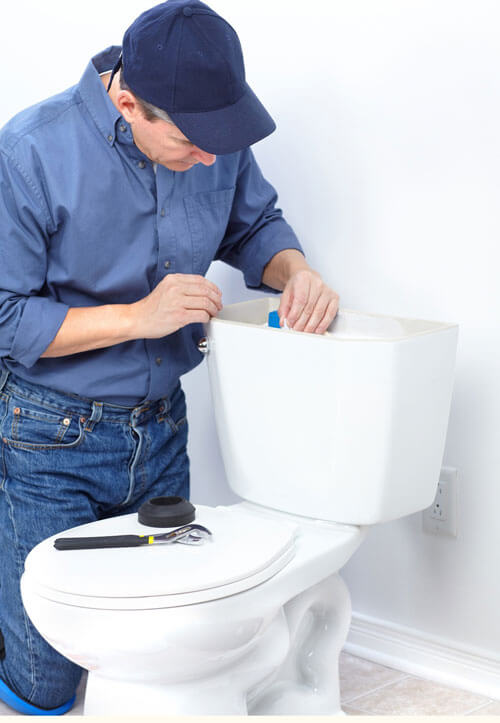 Backed Up Toilets
There are few home problems more unpleasant than a backed up toilet.  It brings your morning routine to a halt, and may pose a very serious health hazard.  A sudden blockage is usually the result of a foreign object (especially if you have young kids).  Commercial toilets are also especially prone to blockage by just about any material and foreign problem you might imagine.  But if you've seen a problem coming then it's probably in the main sewer line.  That could be tree roots, an accumulation of grease and sludge, or any of a number of other problems.  Various sinks, showers, and tubs may also be affected.  So if we're not able to quickly resolve a clogged toilet the next step is sewer drain cleaning.  Depending on the situation we may start with an in-pipe video camera inspection to know exactly what we're up against and where the sewer drain problem is located.  If cabling or using an auger aren't enough, hydro jetting can cut through just about any blockage.  That includes tree roots, although with a root intrusion a sewer line repair or replacement is often the best permanent solution.
Slow and Blocked Sinks
Clearing a slow-running or blocked bathroom sink is almost always straightforward.  Sometimes it's just a matter of removing and cleaning out the U trap.  But a kitchen sink stoppage is another matter.  Kitchen drain pipes can be coated with grease, which attracts food particles, which attracts more grease, and so on until those drain lines are completely blocked.  That problem may be as far as the main sewer line, especially when it comes to commercial food handling sinks at restaurants, grocery stores, nursing homes and so on.  Cabling (snaking) may only be a temporary solution, leaving quite a bit of grease, grime, and sludge behind.  Our pressure hydro jetting equipment provides the most thorough drain cleaning available for a lasting solution and the least chance of another disruption any time soon.
Bathtubs and Showers
A drain clog in the tub or shower usually comes from the combination of hair, soap scum, and hair-care products.  If the drain stoppage is right at the cover you can probably take care of it yourself.  Otherwise cabling is usually a quick, low cost, and highly effective solution.
Laundry Rooms
A problem in the laundry room is usually the result of lint, fabric softener, and soap scum building up in the drain lines.  Again, simple snaking is usually all that's needed.
Need Professional Drain Services? Call Us Today! (858) 346-5223