Got A Clogged Kitchen Drain? Call Today! (858) 346-5223

Kitchen Sink Drain Cleaning
As a full-service plumbing company, we take care of everything, including the kitchen sink.  So if you need kitchen sink drain cleaning or a kitchen sink replacement just give us a call.  Our emergency sewer and drain cleaning services are ready 24/7 to keep your daily routine on track. We service all San Diego County.
Why Are Clogged Kitchen Sinks So Hard to Clear? And why to they come back again so soon?
Clogged kitchen sinks are the worst.  Grease solidifies and builds up on the inside of the drain pipes. That traps tiny food particles and accelerates the process until most of the pipe is blocked.  Your sink drains more and more slowly until a bit of food debris completely plugs the remaining hole and leaves you stuck with a sink fully of dirty water.  Many kitchen drain cleaning methods leave quite a bit of grease and grime behind, giving the next clog a head start.  Sometimes a drain snake (cable) just pokes a hole through the build up, and that hole's quickly filled in or suddenly blocked by a piece of debris.
Keeping fats, grease, and oils from going down the sink drain is the best prevention, and running lots of hot water or even some boiling water from time to time helps.  But you can still have problems, especially in older homes.  Unfortunately, liquid drain cleaners aren't very effective against grease, and other types are harmful to pipes.  So it usually takes a skilled plumber to clear clogged kitchen sinks for good.
We Offer A Full Range Of Kitchen Drain Cleaning Services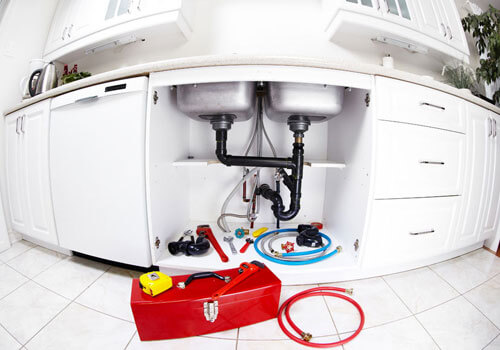 Our Expert Kitchen Sink Drain Cleaning
Our highly-trained and experienced drain cleaning technicians may begin with cabling (drain snaking), but they keep an eye out for black sludge and white grease coming back on the cable.  If either seems abundant and the drain still isn't completely free flowing, it's a good idea to take a step up to hydro jetting.  Our advanced equipment uses high-pressure water jets to safely blast away any and all buildup and flush it out of the drain and sewer lines.  That restores full flow rates and leaves the inside of the drain pipes as clean as when they were new.  Those both greatly reduce build up, so with a little caution as to what goes down the drain and garbage disposal your kitchen sink drain should be trouble-free for a long time to come.
Kitchen Sink Replacement
Kitchen sinks rarely break, but they do become scratched, dinged, and stained (yes, even "stainless" steel).  Or just plain out of style.  Our licensed plumbers include experts in kitchen sink installation.  They'll attend to every detail and make sure that it's done right — solid and level mounting without any wobble or gaps, even for tricky undermount types.  And of course leak-free and code-compliant faucet, drain, and garbage disposal hook up.
We understand how you may like to shop around yourself to pick out the perfect features and look.  Our you may be fortunate enough to have an interior designer make a selection.   So whether it's a replacement or a new kitchen sink installation we make sure all the dimensions and connections match up properly then either order and install your selection or install what you've already purchased yourself.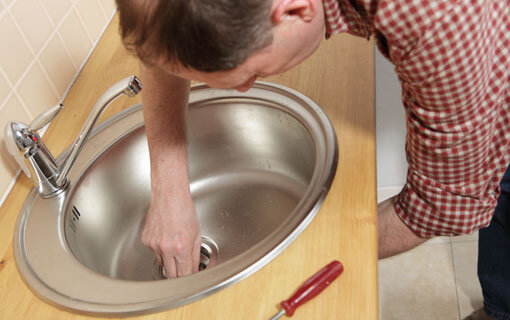 Need Professional Kitchen Drain Services? Call Us Today! (858) 346-5223