Got A Clogged Laundry Drain? Call Today! (858) 346-5223

Laundry Drain and Sink Services
You may not use your laundry room sink much, but that doesn't mean it isn't going to clog.  That's because it's drain is soon joined by the washing machine's drain water filled with lint and sometimes debris from things left in pockets.  Plus anything that gets past the sink strainer can catch in the U-trap or otherwise contribute to a blockage.  Our experts can take care of that as well as install a replacement laundry sink.
Clogged Laundry Sinks
Lint, soap scum and fabric softener from the clothes washer go down the drain and conspire to clog the washer and laundry sink drain line.  Hard water with no water softener often makes thing worse.  But fortunately clogged laundry sinks are usually easy to clear.
If you're busy like most people you may prefer to call in a professional laundry drain cleaning service such as ours.  Our experts will quickly come to understand the exact nature of the blockage, and can even send a miniature camera down the drain and sewer line for a video inspection.  They'll then know exactly what to do and have all the right equipment to clear clogged laundry sinks right away.  Whether that's using a cable (plumber's snake), auger, or advanced hydro jetting they will clear the blockage.
We Offer A Full Range Of Laundry Drain Cleaning Services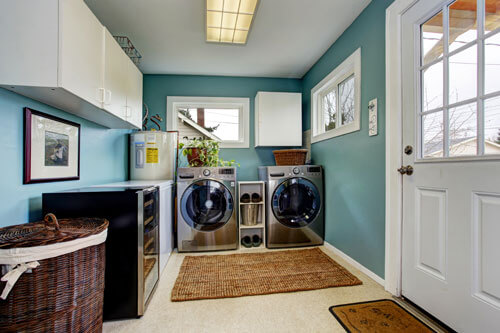 Laundry Drain Cleaning
In the laundry room, a clogged drain for just the sink may be the easiest of all.  It's often possible to simply remove the sink strainer and fish out the gunk.  The next to try might be to clear out under the sink, slip in a pan to catch the water, and remove the U-trap or P-trap.  If the blockage is there, just clean it out, reinstall it, check for leaks, and you're done. Or you can first try using a plunger.
Liquid drain cleaners often work well when the problem is lint rather than grease causing the clogged drain, on both the laundry sink as well as the washer drain line.
Acid-based drain cleaners can indeed harm metal drains and pipes if they're not used by an expert, and lye based cleaners can harm plastic as well as metal pipes.  So only use products based on sodium hypochlorite with little or no sodium hydroxide.  It may take several tries, and you may still be left with a problem.  If so, then it's clearly time to call in a drain cleaning service.
Laundry Sink Replacement
When it's time to update your laundry room, a laundry sink replacement can be purely functional or make a surprising difference in appearance.  Whatever type of sink you choose you can purchase it yourself or have us purchase and install it for you, typically with just a day or two waits.  Our licensed plumbers can also install new faucets, or re-install your existing ones.  Whether for residential or commercial sinks we'll make sure they're solidly mounted and properly connected for a long service lifetime.
The Drain Cleaning Experts
As a licensed full-service plumbing contractor we can take care of all the drains in your home or business, and all of your plumbing needs for that matter.  Our laundry, bath, and kitchen service is always provided by our in-house employees — technical experts who appreciate the importance of politeness and leaving your home clean and worry-free.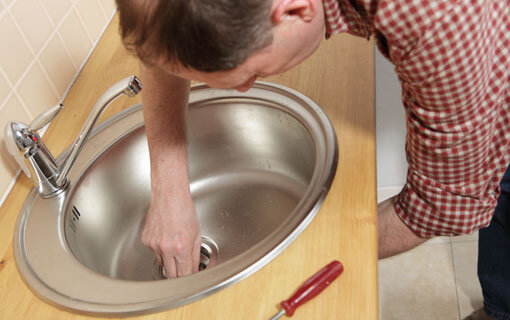 Need Professional Laundry Drain Services? Call Us Today! (858) 346-5223