Need Sewer Line Repairs? Call Today! (858) 346-5223

Sewer Line Repair San Diego
Your sewer is leaking or a clog revealed a bigger problem.  You want it fixed properly, but as quickly and inexpensively as possible.  We offer both dig-and-replace and trenchless sewer line repair services throughout San Diego County, available 7 days a week 24 hours a day. After a thorough sewer inspection, we'll be pleased to explain the pros and cons of each.
Insured, bonded, and licensed for residential and commercial sewer repairs we're also members of the BBB A+ Rating and PHCC. Our team members are true professionals.  Experienced, well-trained, and uninformed they complete each job with top-quality materials and workmanship.  We follow all California and San Diego County and city codes, including all required permits.  Our company not only offers a satisfaction guarantee, we'll call back to make sure that everything was up to our quality and customer care standards.
Expert Sewer Repair
Most of the time as a homeowner you're responsible for all plumbing on your property plus all the way to the sewer main connection that might be out under the street (https://www.sandiego.gov/mwwd/general/plumbing).  That's literally a lot of ground to cover.  Our sewer line repairs begin with an in-pipe video camera sewer inspection so we'll know what's needed before any digging.  As needed we'll coordinate with the city or San Diego County and take care of any permits as quickly as possible to get your home or business back to normal as soon as possible.
Old clay or cast iron pipes are the most likely to need repair, but any sewer lateral can have rust and corrosion, cracks, leaking or offset joints, poor slope or sagging sections from settling soil or improper installation.  Not to mention excessive or large tree roots. Due to the health hazards, for property owners and the public alike, only licensed plumbers can complete sewer repairs. You'll also only want professionals such as our experts in order to avoid costly future problems that can result from improper repairs.
We Offer A Full Range Of Sewer Services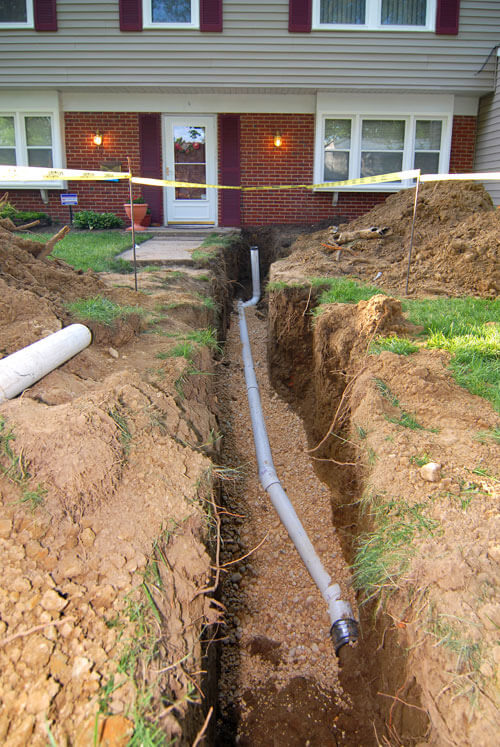 Dig and Replace
The repair itself is relatively inexpensive, but access and restoration can be costly.  Excavating several feet down is neither quick nor easy, and often also involves jack hammering through and then restoring driveways, patios, and walkways.  But if the pipe is otherwise in good condition a spot repair consisting of replacing just a short section of damaged pipe with a new pipe can be the lowest-cost option.  And if a line has collapsed or suffers from a sag or improper slope it might be your only option.
Trenchless Sewer Line Repair
Trenchless sewer lining is perhaps the most popular approach but isn't always possible or the best solution.  Our sewer lining services install a strong and long-lasting inner lining to the existing pipe, essentially creating a new pipe (CIPP — cured in place pipe).  But conditions and building codes at your location may make trenchless sewer pipe bursting the best, or only, option.  Pipe bursting runs a special "head" down the line that breaks the old pipe and makes room for a new HPDE line to be pulled or rammed into place.  It can be the best choice when the existing sewer line has offset or gapped joints or other large breaks.
Your Choice
Repair or replace?  Of course, the decision is up to you.  If total sewer repair costs approach that of a trenchless sewer replacement we'll usually recommend the latter as the new pipe will be resistant to tree roots and corrosion and typically has a 50-year lifetime.  But each situation is different, so we'll be happy to prepare an estimate for both and discuss all the pros and cons.
Drain and Sewer Tips
The web page https://www.sandiego.gov/mwwd/general/plumbing includes some great tips on avoiding the need for sewer cleaning once your repairs are complete.  Among them are:
Never put cooking grease down the sink or toilet — dispose of them in the garbage,
Never put anything down the toiled other than "personal business" and toilet paper, and
Flush out your drain and sewer lines with lots of hot water at least once a year.
Sewer Problems? We Can Help! Call Today (858) 346-5223