Need Sewer Line Repairs? Call Today! (858) 346-5223

Trenchless Sewer Pipe Replacement
Are you facing an expensive sewer line replacement at your home or business in San Diego County?  If you've only gotten a quote or estimate for traditional trench-digging sewer line replacement you're likely missing out on some big changes that have come about in the last 10 years.  Leading companies such as ours are experienced in trenchless sewer pipe replacement technologies that save time and disruption.  After non-destructive testing, we can replace an entire sewer line without digging a long trench and crack through concrete driveways, garages, and slab floors.  Trenchless sewer replacements protect the future with a 50-year design life.  Besides lower incidents of clogs, you'll also be reducing the risks of water damage from backups.  These technologies do require greater skill, however, so experience and reputation most definitely count.
Sewer Problems
Sewer pipes can experience a host of problems, and sometimes a cleaning or sewer line repair job just isn't enough.  Lines can be corroded, cracked, or even collapsed.  And joints can become separated or offset.  That's especially true for older clay and cast iron lines.  But trenchless sewer pipe replacements are resistant to all of those problems and have a 50-year design lifetime.  Our crews always begin with a video camera inspection and assessment.  You'll be able to see for yourself any issues that lead us to recommend replacement rather than sewer repair.  We'll also be on the lookout for sagging and other slope issues as well as for adjacent water, gas, and electrical utility lines that might limit the use of trenchless technologies.
We Offer A Full Range Of Sewer Services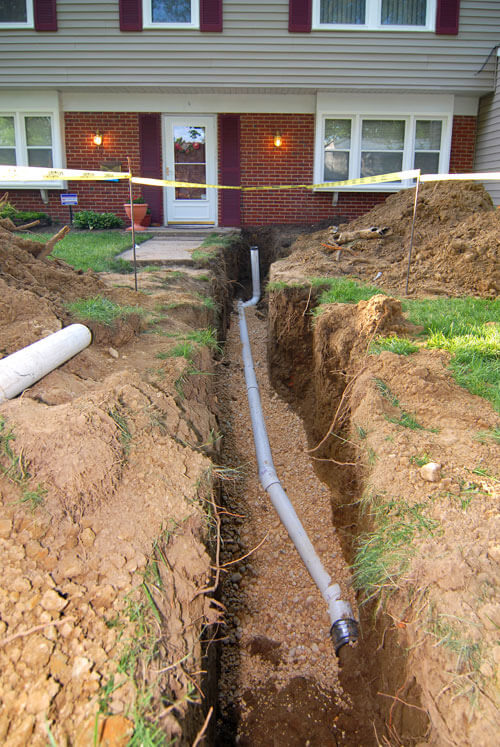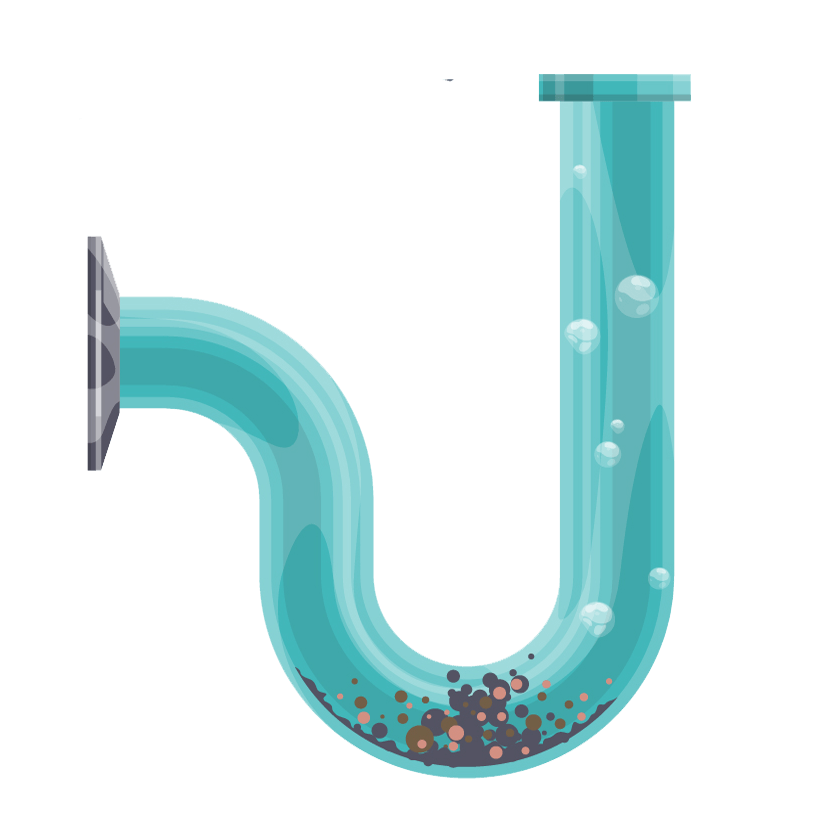 Trenchless Sewer Pipe Replacement Options
It's no longer necessary to destroy you lawn in order to replace your sewer line in San Diego County.  And it's not really necessary to remove an offending tree.  Trenchlesss sewer replacements are also faster (often completed in a single day) by avoiding the complications of extensive excavation, paving repairs, landscaping, and coordinating multiple contractors.  Whether using pipe bursting technology or pipe lining technologies, the new pipe is root-resistant, leak proof, and doesn't corrode.  Overall it's a quick 6-step process with minimal disruptions.
Video camera inspection.
Dig one or two access holes, each with a 3- or 4-foot square work area.
Cleaning if pipelining will be used.
Install the new pipe or lining.
Connect the new line.
Fill in the access holes.
Trenchless Pipe Bursting
With pipe bursting a hydraulic head is sent through the old pipe, pushing it apart to make room for a new line.  That line is then pulled or rammed into place along the path of the old line.  The new pipe is continuous, with no joints.  Made of HDPE it's much more heavy duty than the ABS and PVC drains you may have seen in home improvement stores.
Trenchless Pipe Lining
Trenchless sewer lining is a bit more involved but has its advantages such as not disturbing nearby utilities and requiring only one access hole.  Unfortunately, it is not an option if the inspection finds significantly offset joints or breaks.  Pipelining technologies leave the existing pipe in place and install a thin high-quality inner lining, creating a pipe within a pipe.  Also called CIPP (cured in place pipe) and slip lining, they've been in use for over 25 years to replace millions of feet of sewer lines.  It's not just a plastic coating.  Trenchless sewer linings include a fiberglass or another fabric for a strong and durable result.  Depending on the situation we may use a pull-in-place (PIP) method with two access points or a faster inversion method requiring only a single access point.
After completion, we'll perform another inspection to assure that everything was done right.  Although the inside diameter is reduced slightly, quality sewer lining typically results in improved flow due to a smoother surface and no calcium deposits.
Other Methods
Other options exist if only relatively short sections need replacing.  These include horizontal boring, directional drilling, and hydraulic drilling.
Costs
Trenchless sewer replacement costs are a combination of fixed expenses, such as equipment setup and digging access holes, and materials costs per foot.  So the total costs per foot vary widely, with shorter projects coming in at the higher end of the range.  As noted by http://home.costhelper.com/sewer-line.html traditional trenching methods range from $50 to $250 per foot as a national average.  Pipe bursting usually comes in at $60 to $200 per foot for longer runs and around $240 per foot for shorter runs.  Pipelining typically spans from around $60 to $330 per foot.  So with trenchless technologies, the cost of the plumbing work itself is often 20-30% more expensive.  But digging and restoration often adds thousands of dollars and when roads, driveways, and utilities are involved additional costs of $10,000 or even $25,000 aren't out of bounds.  It's often noted that the bottom line for using trenchless technologies is typically 40% less than traditional sewer line replacements.  But don't count on averages!  We'll provide a free and detailed estimate of your particular situation and explain all of the ins and outs.
Sewer Problems? We Can Help! Call Today (858) 346-5223